Easy to use
AnyVideo Converter HD has a very simple user interface. Supports drag and drop functionality and doesn't require technical knowledge to be used.
The software user interface is suitable to everyone. There isn't any setting, you just select your target device and automatically AnyVideo Converter HD select the best conversion for a better view.
Our user love it!
---

High speed conversion
Very high speed conversion by optimizing the use af all processors. The core engine is designed to maximize performance on both 32bit and 64bit computers. When you start a conversion, AnyVideo Conversion HD use all available power from all CPU to complete the job as fast as possible.
All CPUs works togheter and you save your time!
Using Remux option some files can be converted in seconds, and the quality is excellent.
If the video track is compatible with your device, but th audio track is incompatible, AnyVideo Converter HD converts only audio track, saving your time!
---

Suited for MKV files
Many video files are available in .mkv video format. AnyVideo Converter HD is suited to convert this kind of file. Sometime .mkv contain multiple subtitles, or multiple audio tracks. You can select one directly from the original file, and you can enjoy your movie with your prefered language, without further conversion.
---

Audio language selection
If your video file contains multiple audio tracks you can select one to convert. The selected audio track is embedded on the converted video and you can view it on your device, without any setting on player. Simply press play and enjoy your movie. Sometime you can find movies with audio and video not syncronizated, in this case you can try to fix it using "force audio sync" option. Most time this feature solve the sync trouble.
---

Subtitle Selection
If your video file contain subtitles, you can select one, or you can add subtitle from an external file. Some video files (like .mkv or .mov) have a subtitle track embedded. If you want you can select your prefered subtitle and embed it in converted video. AnyVideo Converter HD use softsubs tecnology, for a better performance, and fast conversion. Subtitles are not irreversibly merged in video, and you can activate or deactivate them in your video player.
---

Automatic Deinterlace
Some videos are interlaced those videos aren't optimized to view on LCD screen. AnyVideo Converter HD automatic deinterlace the video for a better view. Interlaced video is designed to be captured, transmitted, or stored, and displayed in the same interlaced format. Because each frame of interlaced video is composed of two fields that are captured at different moments in time, interlaced video frames will exhibit motion artifacts known as "interlacing effects", or "combing", if the recorded scene is moving fast enough to be in different positions when each individual field is captured. These artifacts may be more visible when interlaced video is displayed at a slower speed than it was captured or when still frames are presented. Usually user wants video deinterlace, and AnyVideo Converter HD do it automatically.
Most time the converted video is perceived "best" of the original video.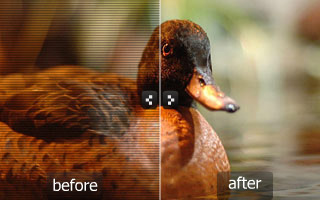 ---

Dolby Digital
You can convert all your videos with 5.1, 6.1 or 7.1 audio. If your video file has 5.1 audio track, this feature is maintained in the converted video. If your video has a 6.1 or 7.1 audio track don't worry, AnyVideo Converter HD automatically remixes the audio channels and produces a new 5.1 audio track. This feature provides a full compatibility with most of the video player like Apple TV. Turn on your audio equipment, and enjoy the audio quality.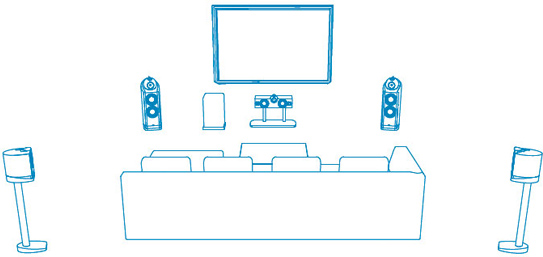 ---

Right aspect ratio
All converted files maintain the correct aspect ratio for a perfect view on device. The movie can have 4:3, 16:9, or 2.34:1 aspect ratio. If you watch a 4:3 video on 16:9 display you view a distorted image. If you watch a 16:9 video on a 4:3 display you view a distorted image. To view your movie without any stretch, the video must be viewed with a orizontally or vertically black bar. AnyVideo Converter HD performs the best conversion for your selected device. None of your movie will be distorted, and you can always enjoy the best possible result.

---

Sync with iTunes
All videos can be synced with iTunes automatically. When the conversion finish, there is an option to import the converted file directly into iTunes. This funtion is very comfortable using Apple TV. You can convert all your movies'collection, they will be automatically added to iTunes ready to be played on your Apple TV.
---

Color palette
No change in color palette for a perfect and professional conversion. Most video converters convert a movie without any color control. This causes a bad color balance. AnyVideo Converter HD doesn't change any color, and the converted video is simply perfect, like the original one.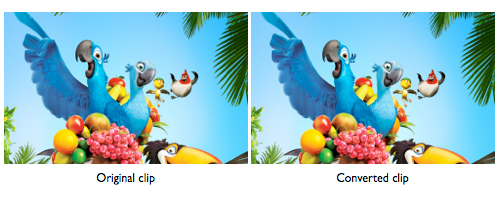 ---

No settings required
AnyVideo Converter HD is tested on all supported devices. All settings are optimized for a better user experience. When a new device is available on market, we start immediately to test it. Only after we have found the perfect settings for the new device, we build a preset for AnyVideo Converter HD. This is our guarantee of quality.
With AnyVideo Converter HD there are no settings. Only one. The best.
---

No Advertise
AnyVideo Converter HD is a professional product. You never find adv inside.
---